Pay Per Click is a program to initiate instant traffic to your website. PPC can take any new business model to great heights. It is trackable, analysis-friendly and above all, puts your business ahead of competition, earning you good returns on investment.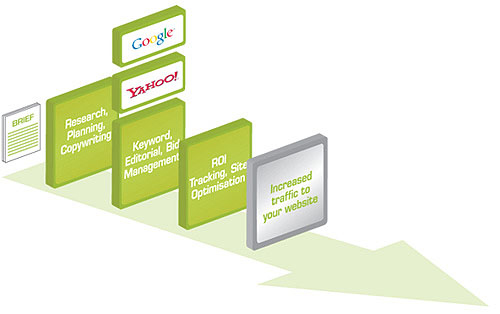 What we do
At SEO Services Group, we employ different strategies to make your business work in the Internet world.

First and foremost, we analyze your business model and services to understand your requirements.

If you had already engaged in any other PPC programs, we check your previous reports, analyze it and provide our suggestions to improve your growth through PPC management.

If you want to start a new campaign, we analyze its scope and potential and then, frame a strategy for its success. For clients who already have several PPC ad campaigns, we optimize your ad campaigns to boost revenues.

For clients, we request them to manually create an account with PPC websites like Google AdSense and MSN adCenter. The reason why we request our clients for creating an account is because PPC websites request for Credit Card information to be added with the account. But, if required, in certain cases, we use our existing accounts to run your ad campaigns and then, bill you for the necessary amount.

SEO Services Group offers privilege for our clients to access their Ad campaign and this keeps you in the know of whats is happening with your ad campaign.


How do we create an Ad Campaign?
Initially, we do an analysis on how effective should/will be an ad campaign. After all the preliminary ground work and analysis, we create an ad campaign. Some might request us for targeting certain services, in such cases, we create groups under each campaign and track the performance of particular services. This also helps our clients to have an overview of particular ad campaigns.
We provide PPC services to target your ads to a particular location or for a particular language search. This is preferred by many European clients to gain customers based on language and location.
The most important thing in PPC is to assign a daily budget for an ad campaign. So depending upon your daily budget and the cost per click, we optimize your ads to gain the maximum leads and traffic for your website.